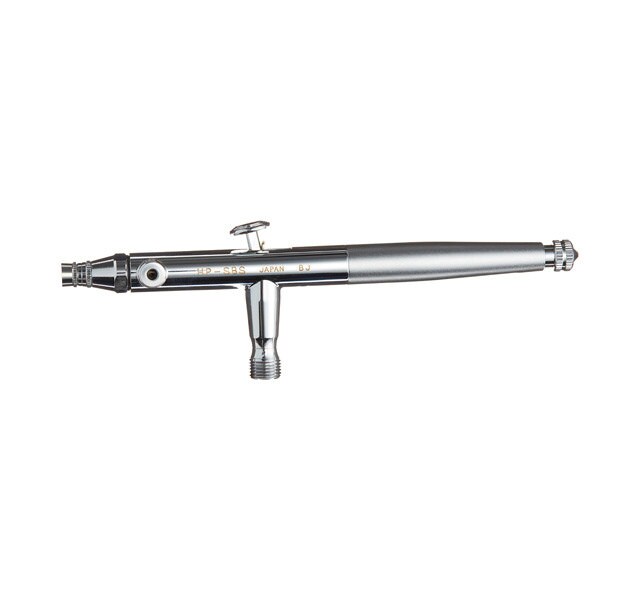 Side Feed Airbrush Gun
A professional, affordable, powerful and quiet air compressor for airbrush application.
Sorry, this item is inactive.
When will it arrive?
Provide your US shipping zip code to get an estimated arrival date for in-stock items.
Full Description
Backed by the most trusted and professional name in airbrushes, Iwata Studio Series air compressor is user-friendly, powerful and affordable. Features "Sprint Power," a mightily powerful and reliable oil-less piston compressor that is remarkably quiet! The Smart Jet model features "SMART" technology and is a great compressor for doing general airbrush applications. SMART Technology: automatic shut-off, less heat-related moisture build-up, produces full capacity air on demand and reduces running time.
Benefits
>ul>>li>Size: 10 x 7 x 6 in>/li>>li>Weight: eight pounds>/li>>li>Horse Power: 1/8 hp>/li>>li>Features automatic shut-off when not in use>/li>>li>Produces full-capacity air on demand>/li>>li>Offers less heat-related moisture build-up>/li>>li>Includes built-in airbrush holder>/li>>li>Features mounted air pressure gauge>/li>>/ul>
Ingredients
Recommended Usage
>ul>>li>Professional and powerful, use to easily cover small or large areas of skin with airbrush makeup.>/li>>li>See manufacturer's website for full usage instructions.>/li>>/ul>
Product Ratings
Realest Reviews